PERSONALIZED HEALTHCARE AT ITS FINEST.
In addition to our traditional practice, Dallas Health Partners is proud to offer the highest level of customized concierge medicine where convenience is combined with medical expertise that focuses primarily on your overall wellness.
Patients who desire to be in control of their health find great value in the concierge programs offered by Dallas Health Partners. It's an opportunity in today's ever-changing healthcare environment to have a personal doctor who truly knows you.
We invite you to read over the information below and evaluate if Dallas Health Partner's EPIC Concierge Program may be the right choice for you and your family. If you have any questions, please call us at 214-823-4200 and inquire about a brochure.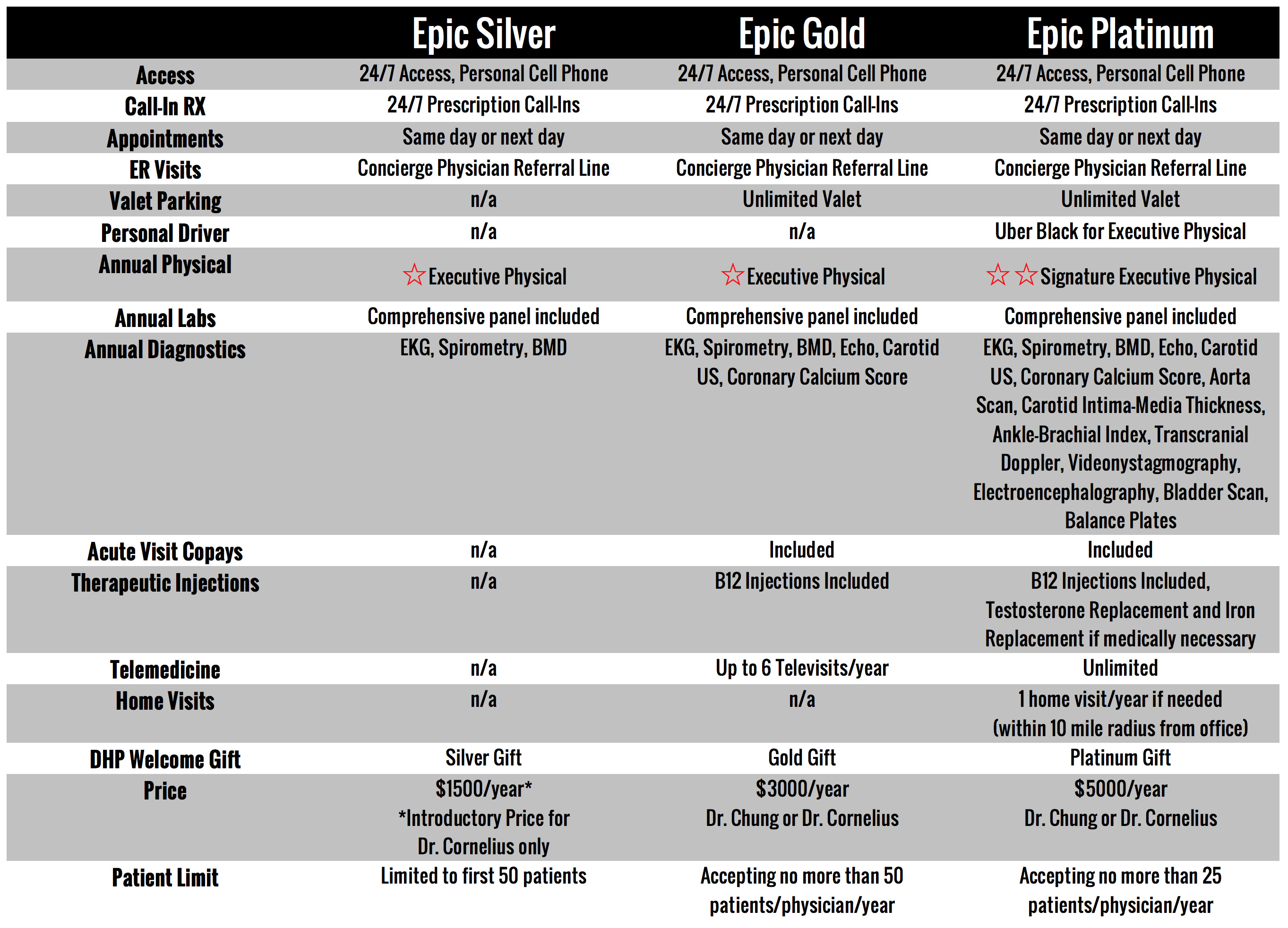 • Family Plans: 15% off for each additional family member
• Terms subject to change
• Full payment is due at signing and is nonrefundable
• 1+ hour face-to-face visit
• Comprehensive Physical Exam
• Comprehensive Lab Panel:
- Complete Blood Count (RBCs, WBCs, platelets)
- Comprehensive Metabolic Panel (electrolytes, kidney/liver function)
- Thyroid Stimulating Hormone w/ Reflex Testing (thyroid screening)
- Lipid Panel (hyperlipidemia screening)
- Hemoglobin A1C (diabetes screening)
- 25-Hydroxy Vitamin D
- Parathyroid Hormone
- Urinalysis
- For Men: Prostate Specific Antigen and Testosterone
• EKG (Electrocardiogram; cardiac function testing)
• BMD (Bone Mineral Density; osteoporosis screening)
• Spirometry (lung function testing)
✩✩

SIGNATURE EXECUTIVE PHYSICAL
• Annual Wellness Gift
• 1+ hour face-to-face visit
• Comprehensive Physical Exam
• Comprehensive Lab Panel:
- Complete Blood Count (RBCs, WBCs, platelets)
- Comprehensive Metabolic Panel (electrolytes, kidney/liver function)
- Thyroid Stimulating Hormone w/ Reflex Testing (thyroid screening)
- Lipid Panel (hyperlipidemia screening)
- Hemoglobin A1C (diabetes screening)
- 25-Hydroxy Vitamin D
- Parathyroid Hormone
- Urinalysis
- For Men: Prostate Specific Antigen and Testosterone
• EKG (Electrocardiogram; cardiac function testing)
• BMD (Bone Mineral Density; osteoporosis screening)
• Spirometry (lung function testing)
• Coronary Calcium Score (screening for atherosclerotic coronary heart disease)
• Echocardiogram (Echo; diagnostic cardiac ultrasound)
• Carotid Ultrasound (carotid artery stenosis screening)
• Aorta Scan (abdominal aortic aneurysm screening)
• Carotid Intima-Media Thickness (CIMT; carotid artery atherosclerosis screening)
• Ankle-Brachial Index (ABI: peripheral vascular screening)
• Transcranial Doppler (TCD; cerebrovascular function screening)
• Videonystagmography (VNG; vestibular function testing for vertigo/balance disorders)
• Electroencephalography (EVOKE; cognitive health testing)
• Bladder Scan (Incontinence/urinary retention testing)
• Balance Plates (vertigo screening)
(Testing frequency to be decided by physician and patient)